Pricing
The prices are quoted in US Dollars. Credit card and PayPal payments are processed online by Digital River GmbH: Scheidweilestr. 4, D-50933 Cologne, Germany. For wire or check payments, please send your purchase order to support@loadtestingtool.com.

If you are a licensed user of a previous version of WAPT or WAPT Pro, check our Upgrades page for available upgrade options.

* Additional amount denotes the maintenance fee for the 1st year. You can always renew or extend the maintenance period at the same yearly price. Please note that your credit card will NOT be automatically charged after the end of the period.

WAPT

$700

+$300*

WAPT Pro

$1200

+$300*

Features Compared:

Record user sessions with any desktop or mobile browser

+

+

Test applications featuring AJAX calls and RIA technologies

+

+

Support of authentication schemes and client certificates

+

+

Flexible error handling and adjustable pass/fail criteria

+

+

Customizable server response validation

+

+

Charts with instant test results available at run time

+

+

Customizable test report with over 20 tables

+

+

Integrated log viewer with side by side data comparison

+

+

Distributed testing with multiple load agents

-

+

Custom pass/fail criteria and test results analysis functions

-

+

Direct server performance monitoring via SNMP and WMI

-

+

Database performance monitoring

-

+

Embedded JavaScript code for in-session calculations

-

+

Export of raw timing data to CSV files

-

+

Integration with x64 Load Engine for large volume tests

-

+

64-bit version of the workplace component

-

+

Full integration with Jenkins

-

+
Extensions
Order

$900

+$250*

Note that WAPT Pro license comes with 2 Load Agents included. You can buy Load Agent licenses to use more.

Order

$300
Modules
Get all 9 modules for a special price.

Order

$950

Please scroll this page down if you would like to license separate modules for:
- ASP.NET
- JSON
- Adobe Flash
- Silverlight
- GWT
- Binary formats
- SharePoint
- WebSocket
- PeopleSoft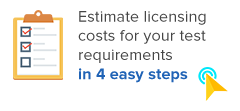 Each module license can be applied to a single installation of WAPT or WAPT Pro workplace. It does not require additional maintenance payments and does not limit the number of load agents and engines used by that workplace. A separate serial number is provided for the registration of the module installation. It is applied through the WAPT or WAPT Pro menu. In case you order the Module Pack, you will be provided with a single serial number that will let you register all modules at once.

Modules

ASP.net: Enables the automatic parameterization of the view state and event validation values.

$250

JSON: Enables the automatic parameterization of session-specific values found inside JSON and creates formatted representation.

$250

Adobe Flash: Converts binary AMF structures used by Flash applications to XML form.

$350

Silverlight: Converts binary structures used by Silverlight applications to XML form.

$300

GWT: Converts GWT data to XML structures facilitating work with session-specific values.

$350

Binary formats: Works with the binary data inside the HTTP requests and responses.

$300

SharePoint: Parameterizes the form digest values in the headers and request parameters of SharePoint applications.

$300

WebSocket: Utilizes WebSocket protocol for instant data updates.

$350

PeopleSoft: Automates client-set cookies creation in PeopleSoft tests.

$250

Module Pack: Get all 9 modules for a special price.
Total price: $2700. Better together: $950.

$950
If you are unsure about the product options and configuration that would best suit your testing requirements, please contact us. We will provide recommendations on the optimal software and hardware configuration. The configuration consulting service is completely free.
Registration instructions
Once you've purchased a product and received your serial number, you need to register your installation. Please follow the instructions below:
WAPT and WAPT Pro: Run the product and choose "Help | Enter your serial numberů" from the menu. If the evaluation period is over, just click the "Register" button in the dialog.
Extension Modules: Run WAPT or WAPT Pro and choose "Help | Modules registration | Enter serial number forů" from the menu.
x64 Load Engine: Run the x64 Load Engine Manager from the Start menu and click the "Register x64 Load Engine" button.
In case the online registration does not work, click the "Register by email" button. A registration message identifying your installation will be created automatically. Please send it to us.
If you experience any problems during the registration process, please, contact us at support@loadtestingtool.com. We will be happy to assist you with the registration.